FROM 13 OCTOBER TO 19 NOVEMBER 2017
PALAZZINA DEI BAGNI MISTERIOSI, MILANO
¿soy Cuba?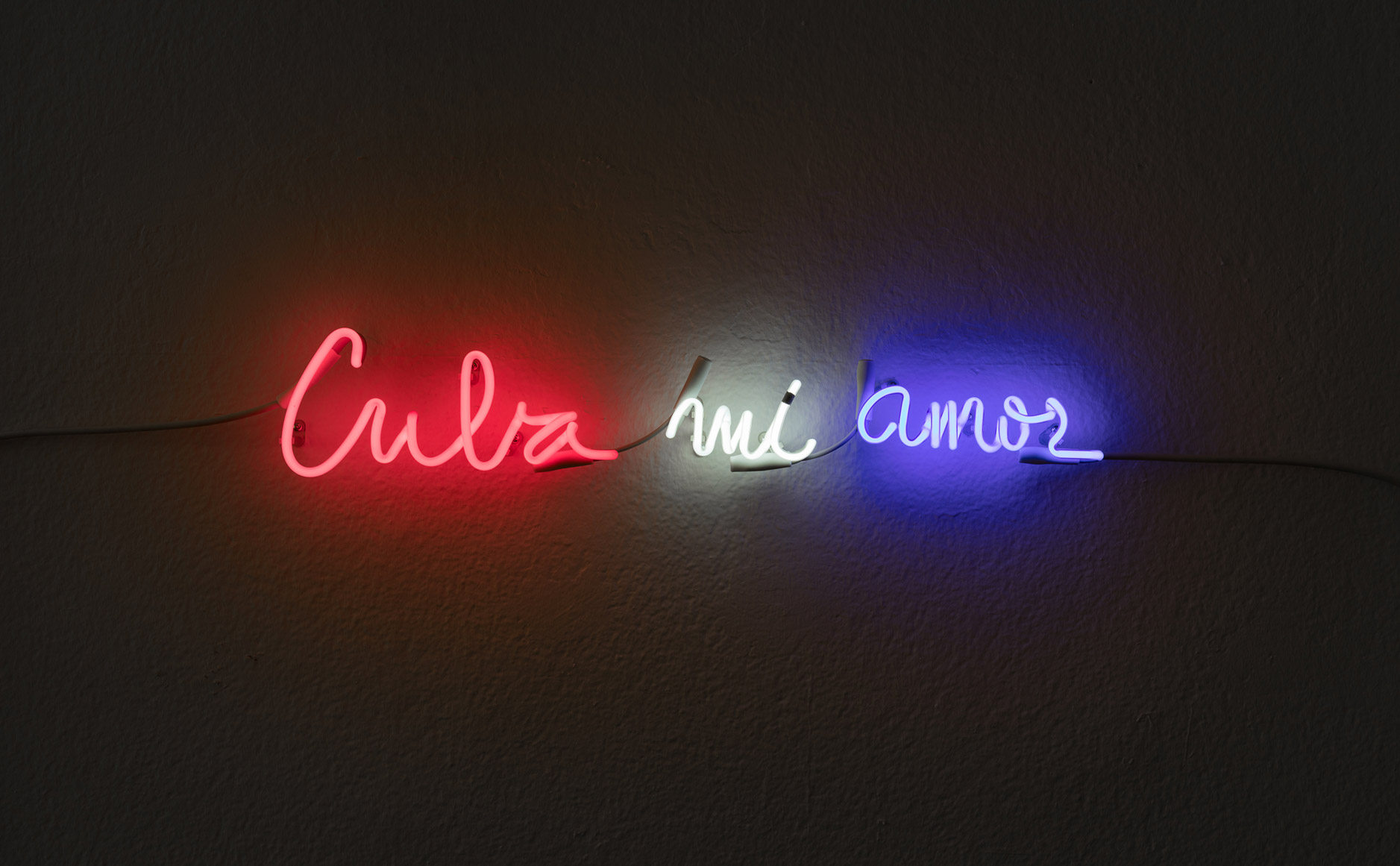 Archaeology of our generation

by Laura Salas Redondo, curator of ¿soy Cuba?
What does it mean to be Cuban today? Why formulate questions about identity around the construction of a country? How to transcend the simplified view of an Island with as many contradictions as the people who live there? These are the premises of the considerations raised by the ¿soy Cuba? exhibition, whose title is inspired by the Soviet film of the same name by Mikhail Kalatozov. Kalatozov attempted to narrate Cuba's transition to socialism, but his references and pace contrasted sharply with those of Cuba.
The exhibition ¿soy Cuba? aims to focus on a specific moment in his- tory and to illustrate the diversity of responses from a single generation. Its scope is wide-ranging, beginning with the macro-topic of 'identity', but also penetrating into a variety of intimate micro-stories. It prompts visitors, as they advance through the Franco Parenti Theatre's Palazzina in Milan, to deconstruct the broad-brush identity narrative and explore the multiplicity of its meanings.
The Artists
See the works of each artist
Alejandro Campins
Born in 1981 in Manzanillo, Cuba. He currently lives and works in Havana. With a degree from the Higher Institute of Art (ISA), Campins participated in many personal and group exhibitions both in Cuba and abroad. His medium is mainly paint- ing, but photography and design are equally important ways through which Campins develops his creativity.
"I created Letargo while seduced by the metaphysical aspect of the piles of cement that lean on the landscape transforming it into a park, or even a mysterious avenue, that speaks of the mystery of death."
Elizabet Cerviño
Born in 1986 in Manzanillo, Cuba. She currently lives and works in Havana. She attended the Higher Institute of Art (ISA) in Havana. In her work, poetry and performance are fundamental.
"Humans have many desires, they are covetous, but they seek something more spiritual".
Leandro Feal
Born in 1986 in Havana, Cuba, where he lives and works. He studied at Cátedra Arte de Conducta, created by Tania Bruguera, and has a degree from the Istituto Superiore de Arte (ISA). Photography is the means through which Feal has chosen to express his art.
"I always go out with the camera in my hands, because a photograph can appear at any time."
Osvaldo González
Born in 1982 in Camagüey, Cuba, currently living and working in Havana. With a degree from the Higher Institute of Art (ISA), he uses Scotch tape as the main material for his installations, but painting and drawing are two forms art also used in his work.
"Since the beginning, resin, like amber, has been a liquid that swallows up a fragment of reality – an insect – and is thus transformed into an archive."
Luis López-Chávez
Born in 1988 in Manzanillo, Cuba, and currently lives and works in Havana. He studied at the Higher Institute of Art (ISA) in Havana, Cuba and in the Royal Institute of Art, Stockholm. His work is a research on the plastic form through different medias.
"The artistic form changes its essence, its image, depending on how it is."
Reynier Leyva Novo
Born in 1983, in Havana, Cuba, where he lives and works. He attended the Higher Institute of Art (ISA) (studies not completed) and the Catedra de Arte de Conducta created by artist Tania Bruguera.
"Every president is ultimately a normal person until he is given power."
Susana Pilar
Born in 1984 in Havana, where she lives and works. She graduated from the Higher Institute of Art in Havana (ISA) and did postgraduate studies at the Karlsruhe University of Arts and Design (HfG) with DAAD scholarship. Susana's elaborately staged productions featuring herself as a corpse are part of a long tradition of artists self-portraits.
"Cuba is a unique space, a unique country, a place that is never the same. If you visit at different times, you will never see it as the same country."
José Yaque
Born in 1985 in Manzanillo, Cuba, currently living and working in Havana. He graduated from the Higher Institute of Art in Havana (ISA) and has participated in numerous collective and individual exhibitions in Cuba and abroad.
"For me, nature is the large world in which we can create."
Invited Artists
The exhibition also features two special projects, two further interpretations of the island, tribute from artists of different generations or origins. Both play with light, with neon. Saving time by Carlos Garaicoa is a counter-clockwise clock which inevitably takes you back to the year of the revolution, 1959. The last is a poem, an act of love that the Cameroonian artist Pascale Marthine Tayou dedicates to the island, to its contradictions. And perhaps the only possible answer is Cuba mi amor.
Born in 1967 in Havana, Carlos Garaicoa currently lives and works between Havana and Madrid. He studied thermodynamics and later painting at the Instituto Superior de Arte, Havana (1989 - 1994), while developing a multidisciplinary approach to address issues of culture and politics, particularly Cuban, through the study of architecture, urbanism and history. Through a wide variety of materials and media, Garaicoa found ways to criticise modernist Utopian architecture and the collapse of the 20th century ideologies.
Born in Nkongsamba, Cameroon in 1966, Pascale Marthine Tayou lives and works in Ghent, Belgium and in Yaoundé, Cameroon. Already at the very outset of his career, Pascale Marthine Tayou added an "e" to his first and middle name to give them a feminine ending, thus distancing himself ironically from the importance of artistic authorship and male/female ascriptions. The objects, sculptures, installations, drawings and videos produced by Tayou have a recurrent feature in common: they dwell upon an individual moving through the world and exploring the issue of the global village.